If you have a small house, chances are you'll also have less furniture than a house that is larger. Or if you are a student and you need to move, but your budget isn't too big. Or maybe you have bought furniture that needs to be delivered to you. If you face any of these scenarios, Man and van services will be your best friend.
But what is man and van service? Man and van service is a kind of moving service that covers everything from household items to the sh. They consist of one to three people offering moving services in a single van. They are budget-friendly and cover shorter distances, usually within the limits of a city.
Let's take a detailed look –
What is the difference Between a Man and Van and Regular Moving Service?
Although the services offered by a man and van service seem like those of regular moving services, these two have some distinct differences between them. The main difference between these two services is the scope of the work done. Man and services are limited to a low budget, the short distance moving with the help of only a couple of people.
On the other hand, regular moving services provide much more in terms of volume, distance, and manpower. They can be used to move items on a larger volume and even can be used to send items from one country to another.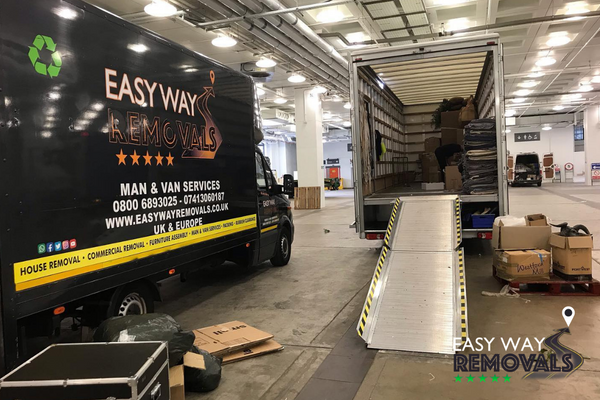 Let's take a look at some chief differences between man and van and regular moving services.
| | |
| --- | --- |
| Man and Van Services | Regular Moving Services |
| Usually consists of 1 or 2 movers other than the driver | Depending on the number of items, can have up to six movers. |
| Suitable for smaller households | Suitable for larger households, offices, schools, etc |
| Suitable for people with a tight budget | Only people with a considerable amount of budget can afford them |
| The client can load the items into the van | The client doesn't need to load items into the truck |
| Usually restricted to a short distance apart from a few long-distance men and van services | The distance doesn't matter |
| The vans are generally medium-sized at best | The size and type of the vehicles depend on the volume of the items that need to be moved. |
| The moving time doesn't exceed a day | Depending on the distance, the time varies. |
| Doesn't come with packing or unpacking services. | Offer both packing and unpacking services. |
How to Choose the Perfect Man and Van Company?
Before deciding to hire a man and van, you have to do a bit of research to ensure the service you're hiring is perfect for you. Otherwise, it'll just be a waste of your money and time.
There are a few factors that decide whether a man and van service are good for you. They are:
1. Price
The very idea of man and van has evolved due to people's need to hire a moving service that can offer a low-budget alternative to regular moving services. So, it's a no-brainer that the prices of man and van services play a big part in determining the perfect one for you. The lower the price of the service, the better for you, correct?
Well, that isn't always true. While the effect of prices is undeniable when it comes to decision-making regarding man and van services, if the price is too low, it's a matter of concern. As prices are too low will mean the service most probably will not be up to the mark and your items will run the risk of being damaged. Man and Van's UK lowest average price is £25.
If any service charges you less than the aforementioned amount, it's best to avoid them.
2. Customer Review
After the price of the services, the factor that plays a major role in determining the value of a man and van service in London is the skill of the workers. And the best way to be sure of how skillful and trustworthy a man and van service is to look at the reviews left by customers.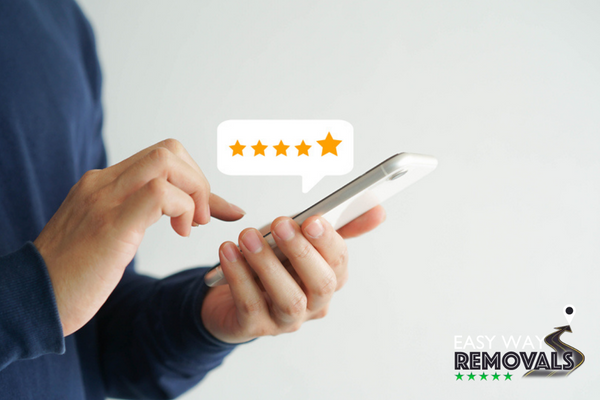 A large number of positive customer reviews will show that a man and van service can be trusted with your items. On the other hand, a man and van service with a huge number of negative reviews will almost surely bear disastrous results for you.
3. Does it have insurance?
This might seem a tad bit redundant to talk about the insurance of a man and van service because it seems like a no-brainer. But people sometimes overlook this aspect in favor of a cheap man and van in London. As long as the service is insured, you can rest easy unless you damage the items yourself.
4. Good Customer Service
Last but not the least, good customer service always brings in more customers for any brand. How good Man and Van service's customer service is, shows how smooth your moving experience will be.
What are the benefits of using a man and van service?
One of the reasons man and van services are so popular nowadays is the benefits they offer. Especially if you have a tight budget, this service is especially beneficial for you. Some of the main benefits of a man and van service are:
Affordability:
This is the biggest selling point of a man and van service. Since they don't need too much manpower and logistics, they can operate within an affordable price range.
Time efficient:
Moving is a time-consuming process as well as a tiring one. But hiring a man and van service will save you a lot of time which you can spend on other activities.
Availability:
Most man and van services are available throughout the whole day and night. No matter which time you choose for moving, you can avail of the services of a man and van.
Organization:
When you move the items yourself, it is very easy to pack the items in a disorganized way. Even if you organize your items while packing, during moving, they run the risk of being haphazardly placed.
But man and van services ensure the moving process is a smooth and organized one.
Makes moving on a small scale a walk in the park:
As a man and van service specializing in moving small quantities of items over shorter distances, they make light work of it.
Flexibility:
As mentioned earlier, man and van services offer a variety of services. They not only move household items but other items as well. They also provide storage services. This flexibility of the man and van services makes them an attractive choice for people.
Can be booked on the same day:
With regular removal services, you need to book them in advance. But man and van services in the UK can be booked on the same day you are going to move. Due to the availability, man and van services have become immensely popular with people with an urgent need to move.
Insurance:
All top man and van services come with top-quality insurance policies. As a result, people don't need to worry about their belongings being damaged during the removal process.
Knowledge about the locality:
As the man and van services almost exclusively provide service to a fixed locality, their drivers are well versed in the roads and streets of that area.
So not only will you not need to spend eternity telling them your location, but they will also be able to move to your preferred location faster.
Safety:
Insurance isn't the only protection you'll get from your man and van service. Insurance will only reimburse you for your damaged articles, they will not and can not return a damaged item to its original state.
But due to the skill of the movers in this service, your items are in safe hands. They move and handle your items in such a way that you don't have to worry about insurance in the first place.
Sufficient storage options:
Sometimes unforeseen circumstances can result in a delay in the moving procedures. In that case, a man and van service will provide enough storage facilities for your items until the situation is fit for moving.
Now, is this service free of cost? Of course not, but it is better to pay for the safety of your items than not paying anything and risking damage or loss.
Customer satisfaction:
The biggest achievement of the man and van services is the satisfaction of customers around the country.
If you know your items will be moved in a safe, insured, and efficient way, you don't need to worry about anything. This will only increase your satisfaction, reducing your stress.
Good customer service:
Another excellent aspect of man and van is its exceptional customer service. No matter when you call them or what question you answer, they will provide you with the best services. This only adds to the allure of man and van services.
Everything is moved in a single trip:
Since you have fewer items to move and are on a tight budget, you want to minimize the hassle of moving as well as the number of trips. Because the more trips, the more money you have to pay.
But man and van services pack everything in such a way that you don't have to make more than one trip.
Planned very well:
Every beneficial aspect of the man and van services is owed to thorough planning and execution. Because everything is so well planned, there is a contingency plan for almost every scenario.
So no matter what issues you may face, chances are that the service has already planned a way to overcome them.
How to Prepare Your Items When Using A Man and Van?
As man and van services don't offer packing services, you have to prepare your items for moving. Here are a few tips for preparing the items that need moving.
Disassembling the furniture before the movers arrive
Arranging strong packing materials
Carefully pack the belongings in advance and categorize them
Placing the items outside the house
How much do a man and van charge per mile?
The per-mile charge of the man and van services varies from company to company. This charge varies between £1.20 to £2.00 after the first mile. For example, Man and Van Uxbridge charge £1.20 per mile if the location is outside Uxbridge.
Final Words
For moving within a short distance and on a small budget, there's no better option than a man and van service. It allows items to be moved in a fast, organized, and ensured way. These differences set it apart from regular moving services.
Even then, you need to keep an eye out for the best man and van services. I hope this article has enriched your knowledge about man and van services and covered everything you need to know about them.
FAQs
How much does a man with a van cost?
If you hire an average van with a man for one hour, then you have to pay 40ph pounds. Likewise, you have to pay 50ph pounds per hour for booking the Luton van with a man. The price of one hour is 90 pounds if you book the Luton lorry van with a man.
What does a man with a van do?
Man and van network provides the facilities to the people who want the removals offices and houses in London with load and unload service.
How much does it cost to hire a moving van?
The local movers' charges are 40ph GBP. If they travel a long distance, then the extra charges are 200 GBP.