It is a specialized and particular service offered to businesses when they want to move their office removals to a new location. They are different from house removals in terms of organization, financial plan, time, packing methods, and supplies. If your inventory can be dismantled or fit in moving crates, there are no limitations to the size or kind of organizations Easyway Removals can migrate.
What Can Office Removal Companies Offer?
Many Office removals Companies can quickly relocate anything from a one-person size office to an over 500 individuals office anywhere in London or worldwide.
Easyway Removals Companies is a fully licensed and authorized British waste carrier and offers all kinds of removal and reusing services.
Sufficient packing and protection of all IT products during the whole business moving process.
Companies can offer full protection and increased limits and strategy customized to suit every business' requirements.
Moving organizers are allowed to each job to monitor the methods and guarantee everything goes smooth and unremarkable.
Easyway Removals companies can offer affordable crate hire and a wide range of expert packing materials suitable for the IT products and documentation move.
How to Do It?
Firstly Contact a Removal Company and ask for a quote.
Along with you, the Company will plan an on-site survey. For smaller businesses, the online option is equally and similarly reasonable.
Then companies will calculate everything and present you with a last free quote dependent on your necessities and extra services you might want. And then we will set a moving date.
On the scheduled day, the company's commercial movers will arrive and work intimately with your IT expert to ensure your IT goods' secure packing and transporting.
Once at the new spot, the groups will unload and unpack everything.
Then they will collect the packing waste materials and discard them following all guidelines.
TIPS FOR OFFICE REMOVALS:
Identify Computers and Other Equipment:
Most present-day offices are full of hi-tech equipment, which needs expert packing and taking care of during office removals. It is important to tell your deductions company precisely what should move.
We are specialists in moving computer equipment and using expert packaging materials and vehicles to ensure they transport securely.
Backups:
One stressful part of moving PC workstations is the worry about the possible loss of information. However, this danger can easily be avoided. Before the movie gets going, guarantee that you have up-to-date backups of all data.
These should ideally store through a medium not involved in the move—for example, a different hard drive or an online backup facility.
Sort and Archive Paperwork:
Numerous companies have a mountain of paperwork built up over the years, all of which must be moved during a corporate migration. A lot of migraines can be avoided if you distinguish files required immediately after the move from those to unload later.
If there is no time to sort through all the desk work properly, you ought to, at any rate, distinguish and mark things to empower detailed sorting at the new office.
Invest time in planning your budget:
When you set your objectives, invest some time planning how to finance them. Office removals frequently include extra expenses for cleaning, storage, and packing materials.
You need to find the ideal approach to optimize your budget without breaking the bank. Talk about this with your moving organizer. Easyway Removals can offer you a variety of different services and deals.
Ensure that everybody is on board with the relocation:
Before the arrival of the moving team, you need to address all parts of the move with your workers and your managers. The two urgent figures for each office relocation's execution are the HR manager and the head of IT. The first and main will help you partition the tasks and organize everybody.
As for the IT specialists, on their shoulders lay the hard undertaking of getting your business back online when the relocation is finished. They will also have to work with the movers to guarantee that the more sensitive equipment is handled closely.
Consider hiring a storage unit:
If you are moving a significant distance or on concise notice, consider leasing a storage unit. On the one hand, your office stock will be securely made sure about and under constant supervision.
On the other, you will have the option to move everything one step at a time. It will be more costly to continue renting your previous office space while setting up your new one than to employ a warehouse unit for a week or two.
Easyway Removals can assist you with that as well. We can offer you a 24/7 CCTV checked storage facility in London, fitting your business requirements.
Set a Date and Keep it Clear:
Set an organization relocation date as far as possible and avoid organizing any significant business activities on or around the day involved.
Setting the calendar should be possible in conjunction with your moving company, which should have the option to give you an exact estimate of how long everything will take.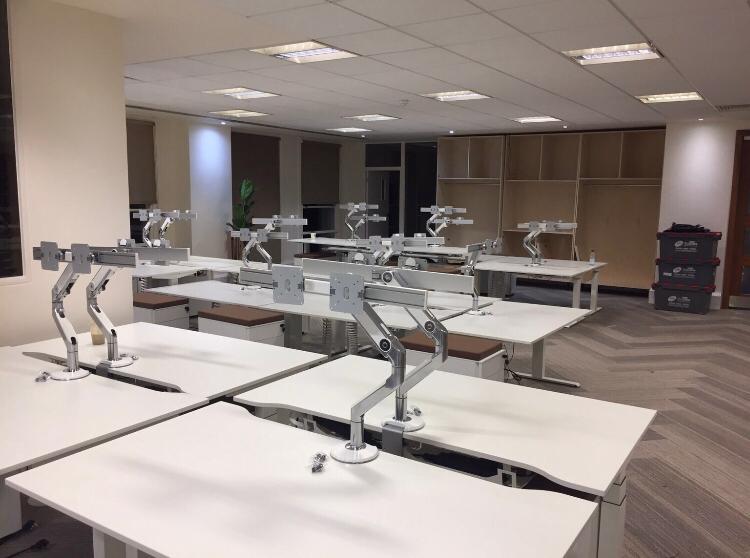 Office Removals London:
London Office Removal can provide all the requirements that you need to move your office. Office removals can be overwhelming, especially if it's your responsibility to ensure it's business as usual afterward.
Moving office furniture, equipment, IT foundation, and staff to new premises is muddled. Our master office moving team will help you plan everything about it to be sure that business continuity will be kept up throughout.
Why We Are Experts In London Office Removals:
We can be experts in London Office Removals Because of the following reasons.
Minimal Downtime.
Business continuity during the move.
System Backup and running to schedule.
Everything is in the right place and at the right time and working as expected.
Good staff morale throughout.
No disruption to services for your customers.
Small Office Moves London:
We're specialists in small office moves. Regardless of whether you're moving your entire office or just 5-10 people, we offer a similar award-winning level of service.
Every small office move is cared for by and by a committed office move director so you can realize knowing your move is in safe hands.
Office Removals London- Looking for Experienced Office Movers?
Arranging office removals in London is complex. At Alexanders, we've been managing corporate relocations for quite a long time, and we have it down to a fine art.
Your Surveyor will visit your location, free of charge, the same number of times as necessary to scope out everything about your office removals project.
Shred documents and safely discard CDs, DVDs, and hard drives.
Reuse or discard unwanted office furniture and equipment.
Disconnect and reconnect any IT framework.
Destroy and reassemble installations, fittings, and furniture.
Convey hire crates pre-move.
Offer a total packing service.
Make up bespoke containers for expert items.
Give temporary or long-term commercial capacity for products you don't want to take with you.
Export pack and ship products abroad.
Cover surfaces to decrease scuffs and harm during the move.
Manage parking permits in all areas.
IT Removal London:
We know how fragile and complex an IT foundation is; if handled carelessly, chaos can ensue a disaster for your office. We handle equipment carefully and accurately and can likewise clean equipment upon demand.
We offer compact appliance testing and can make sure that decommissioning and recommissioning are done appropriately.
FAQs:
Would you be able to Provide Insurance Details on Request?
You will summarize the insurance strategy, which is given with every free no-obligation survey and quotation.
Do You Provide Packing Services & Packing Boxes?
We give packing materials before your removal. In any case, we offer a full or delicate packing service that's quick and successful to make sure we take the stress out of the moving day.