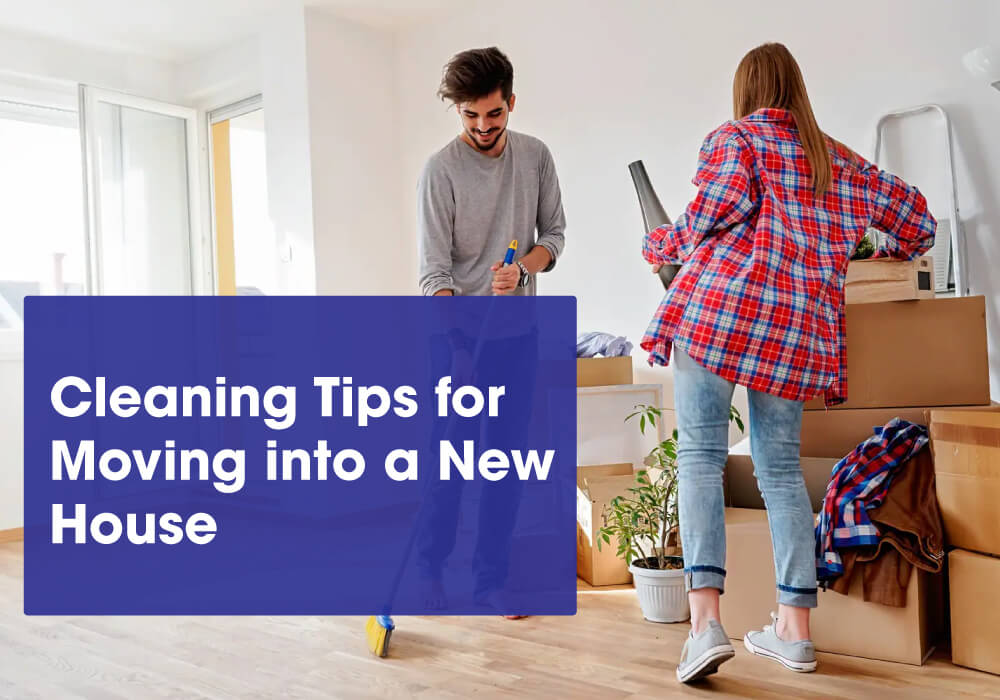 Moving into a new house is an exciting adventure, but before you start settling in and making it your own, it's important to ensure that your new home is clean and fresh. Cleaning your house before moving in not only offers a clean and healthy environment for you and your family but also allows you to start with a blank slate. In this blog, we will provide you with practical and realistic cleaning tips on how to clean a house before moving in.
From tackling kitchen grime to freshening up bathrooms and creating a pristine living environment, our tips will help you start this new chapter in a clean and comfortable home.
Let's dive in and make your new house shine!
Tips on How to Clean a House Before Moving In
Let's explore some helpful tips and a checklist for cleaning the home before moving in.
Start with a Plan
Creating a cleaning plan is essential to stay organised and efficiently tackling the cleaning tasks. Begin by making a checklist of the areas and items that need cleaning, giving priority to key spaces like the kitchen, bathrooms, and bedrooms. Having a plan in place will help you stay focused and ensure that no area is overlooked.
Gather the Right Cleaning Supplies
Before you start cleaning, gather all the necessary cleaning supplies. It is the best way to clean a house before moving in. Some basic items you'll need include:
All-purpose Cleaner
Ideal for wiping down surfaces and removing dirt and grime.
Glass Cleaner
Use this to achieve streak-free windows and mirrors.
Disinfectant Wipes
Effective for sanitising surfaces and killing germs.
Microfiber Cloths
These are great for dusting and cleaning various surfaces without leaving lint.
Broom and Dustpan
Use them to sweep and collect debris from floors.
Vacuum Cleaner
Essential for carpets, rugs, and hard-to-reach areas.
Mop and Bucket
Perfect for cleaning hard floors.
Gloves
Protect your hands from chemicals and dirt.
Trash Bags
Use them to dispose of any trash or unwanted items.
Declutter
Before you start cleaning, take some time to declutter your new home. Get rid of any furniture, appliances, or other belongings that you don't want or need. This will make it easier to clean, and it will also give you a fresh start in your new home.
Clean from Top to Bottom
When you're cleaning, start at the top and work your way down. This will help you avoid tracking dirt and dust from one area to another.
Clean Room by Room
To clean efficiently, it's best to tackle one room at a time. Here are some tips for cleaning specific areas:
Kitchen
Begin by wiping down all surfaces, including countertops, cabinets, and appliances. Clean the inside and outside of the refrigerator and oven. Remember to sanitise the sink and dispose of any expired food items.
Bathrooms
Scrub toilets, sinks, bathtubs, and showers using appropriate cleaning agents. Pay attention to grout lines, faucets, and showerheads. Ensure proper ventilation to prevent mold and mildew.
Bedrooms and Living Areas
Dust and wipe down all surfaces, including furniture, shelves, and windowsills. Vacuum or sweep the floors thoroughly. Don't forget to clean light fixtures and ceiling fans to remove accumulated dust.
Pay Attention to Hidden Areas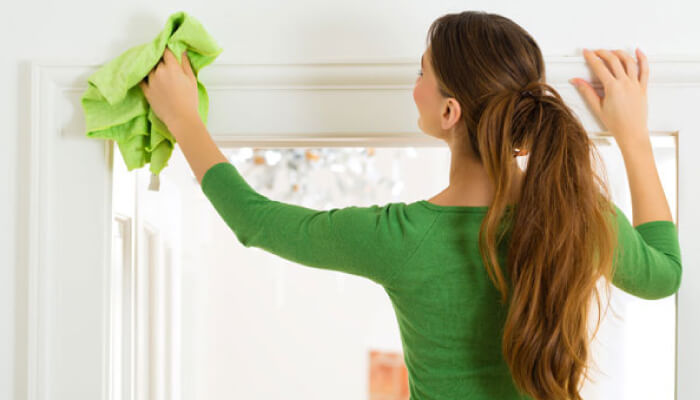 When cleaning, don't overlook the commonly missed spots:
Inside Cabinets and Closets
Wipe down shelves, removing any debris or dust that may have accumulated.
Baseboards and Corners
Use a damp cloth or duster to clean these areas thoroughly, as they often gather dust and dirt.
Light Fixtures and Switches
Turn off the power and gently clean these fixtures and switches to remove dust and grime.
Air Vents
Vacuum or wipe down air vents to ensure good air quality by removing accumulated dust.
Don't Forget the Exterior
If your new house has an outdoor area or patio, don't neglect it. Here's what to do:
Sweep the porch or patio to remove any debris or leaves.
Wipe down outdoor furniture to make it clean and inviting.
Consider pressure washing the exterior walls and windows for a fresh and tidy look.
Safety First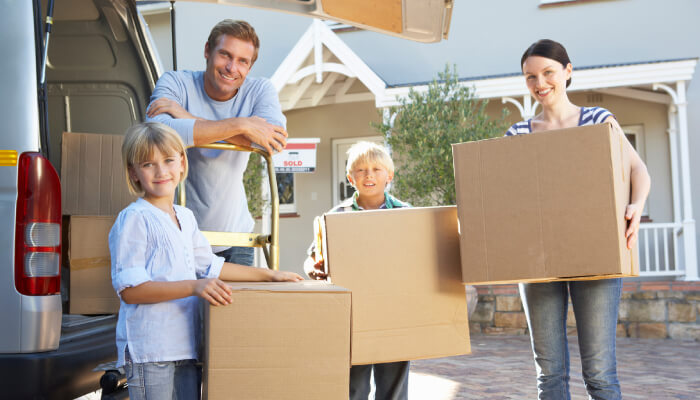 Ensure safe & hassle-free move during the cleaning process by following these precautions:
Wear gloves and protective clothing, especially when using harsh chemicals.
Open windows and doors for proper ventilation while cleaning.
Be cautious when using ladders or step stools to reach high or difficult areas.
Here is a new house cleaning checklist of things before moving in:
Checklist of Things to Clean in a House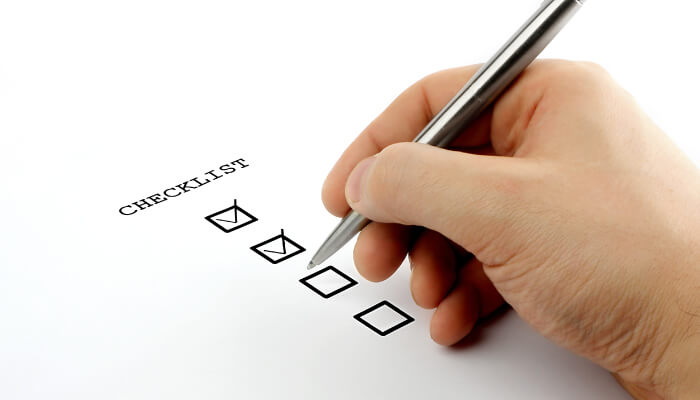 Kitchen: Clean the oven, stovetop, microwave, dishwasher, refrigerator, and countertops.
Bathrooms: Clean the toilets, sinks, showers, and bathtubs.
Floors: Vacuum and mop all floors.
Windows: Wash the windows inside and out.
Walls: Dust the walls and clean any cobwebs.
Ceilings: Dust the ceilings and clean any light fixtures.
Doors: Wipe down the doors and doorknobs.
Baseboards: Clean the baseboards.
Light fixtures: Clean the light fixtures.
HVAC system: Change the air filters.
Garage: Sweep or vacuum the garage.
Outdoor areas: Sweep or rake the patio, driveway, and walkways.
Remember, if you need professional assistance with your move, consider Easywayremovals' London house removals service. We understand that moving houses can be a headache. That's why we're here to make your life easier. With our efficient services, we aim to take the stress out of moving and provide you with a smooth transition. Enjoy 10% off for full house removal, fast and efficient moving, insured and licensed professionals, any van size available, and even rubbish cleaning service. Let us handle the logistics while you focus on settling into your new home. 
Wrapping Up
In essence, armed with the knowledge of how to clean a house before moving in, you can confidently embark on this exciting new chapter. By following moving into a new house cleaning tips, you can now plan, gather the right supplies, and tackle each room with care, and thus, you will be able to create a fresh and inviting home. Remember to pay attention to hidden areas and prioritise safety. Enjoy the satisfaction of starting anew in your beautifully cleaned new house!
FAQs
Why is it important to clean a house before moving out?
Cleaning a house before moving out is essential for several reasons. Firstly, it ensures that you leave the property in good condition for the next occupants. Secondly, it helps you get your security deposit back if you're renting. Lastly, cleaning allows you to organise and pack your belongings more efficiently.
How do I disinfect my apartment before moving in?
To disinfect your apartment before moving in, clean and wipe down appliances such as the microwave and refrigerator with vinegar and water solution.
What is the best time to clean the house?
The best time to clean the house is typically on weekends when you have more time and assistance from family members. Sundays are often preferred to start the week with a fresh and clean home.