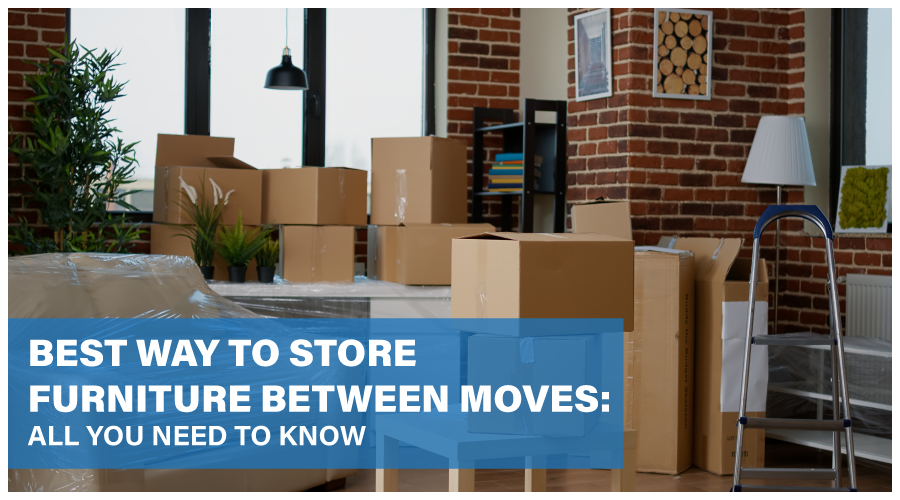 Moving homes can be a lot of hassle and can induce a lot of stress. The stress level goes up even further when the weather doesn't allow you to move when you want to. It might rain or snow for days on end, postponing your move for the foreseeable future.
One of the worst aspects of not being able to move when you want to is you need to store your furniture until then.
The best way to store furniture between moves depends on your needs and budget. You can hire a portable container, rent a self-storage unit, keep the furniture at a friend's or family member's place, or you can hire a moving service that offers storage facilities.
You also should follow a few steps to store your furniture in the right way. 
Let's take a deeper look at the best ways for storing furniture.
How you can store furniture between moves?
When you move homes or offices, you expect everything to go as smoothly as possible. But sometimes you need to make adjustments to your plans as situations can change.
One change of plan that can have the most annoying impact on your move is when you need to store your furniture between your moves.
There can be a lot of reasons why you need to store your furniture between moves. The weather might not allow you to move to your new home, or the home may not yet be ready for your move.
The latter happens more when you move to a newly renovated home. This is why you should know how to store furniture between moves so that you are not stranded with them.
Now, there are a lot of ways of storing furniture between moves. All you need to do is to choose one according to your needs.
1. Portable containers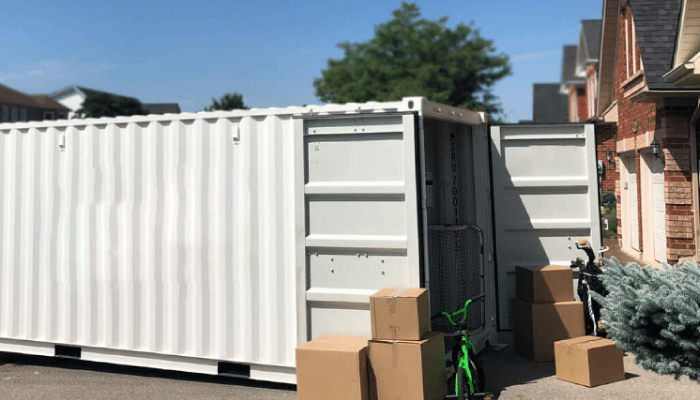 These are containers on the back of a truck. You can hire a portable container and keep the furniture in them for as long as you need. You can also tell them to drive to your destination once you are ready to move.
This saves you from a lot of hassle, namely storing your furniture in a safe place and loading and driving them around.
2. Self-storage units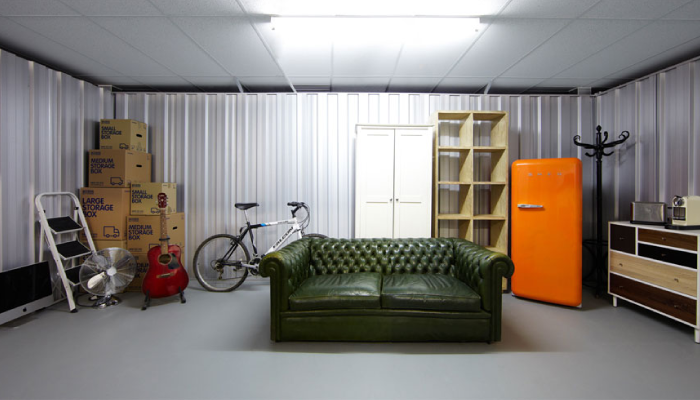 If you want to know how to store furniture outside, you can rent self-storage units. These units charge by the month, so you can keep your items safely in them for however long you need.
Although these units are one of the cheapest ways to store furniture, they have a slight drawback. You have to drive to these units, unload and load your furniture all by yourself, so the workload is greater in this case.
3. Moving services with storage facilities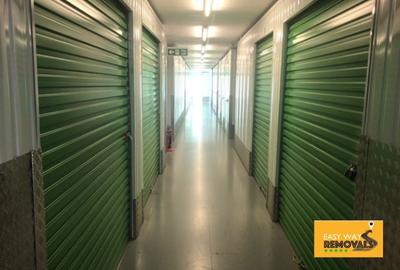 If you want to be completely hands-off with your moving process and don't want to go into the trouble of finding storage between house moves, you can hire moving services that provide storage facilities.
These services will load, store, move, and unload the furniture at your new home. We, at Easy Way Removals, provide storage services for your furniture in between your moves.
4. Friends and family
If you don't want to spend money to store your furniture between your moves, then you can get help from some friends and family members.
You can store your furniture in their garage, or store room, or any other place until you are ready to move again. But make sure you don't cause them major inconvenience while doing so.
How to store furniture in temporary storage between moves
Now that you know what storage options you can choose for your furniture between moves, you need to know how to keep them in said storage.
Especially if you are going to keep your furniture in self-storage units, or anyone else's house, you need to follow these steps so that your furniture doesn't get damaged.
1. Cleaning the furniture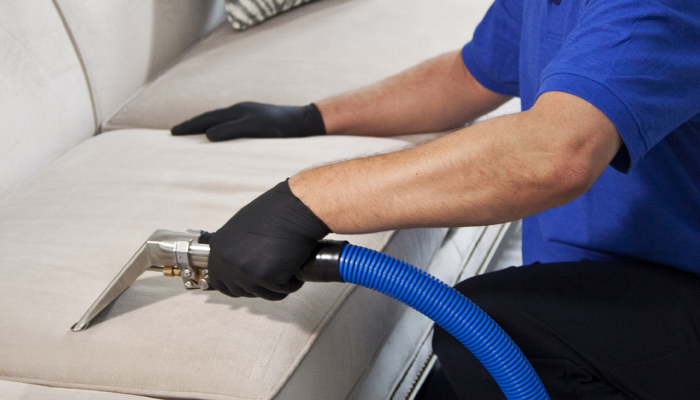 The first step of storing furniture between moves is to clean them thoroughly. You don't want your furniture to be dirty when you store them, for a few reasons.
First, sometimes they can be even dirtier after you get them out of storage, making your life more miserable. Next, dirty furniture can smell very bad if kept in closed spaces for an extended time.
Finally, if you keep the furniture dirty, the organic debris can rot there, damaging the furniture and its material. This is why you need to wipe every bit of the furniture and vacuum them before packing.
2. Disassembling the furniture
Once you have cleaned the furniture, you should disassemble them. There are a few ways it will help you. First, taking the furniture apart will make packing them much easier.
To learn in-depth about packing read our article on packing tips for moving.
Also, doing so will help store them properly, saving up a lot of space. Finally, loading the furniture, moving them, and unloading them will be a lot easier when you take everything apart.
When you disassemble your furniture, make sure you label each part, so that you don't lose them in transit. Also, ensure you keep all the screws, washers, and other smaller but important pieces safely.
You can either put them all together in one box, or you can tape the small parts of the furniture to one of its pieces.
3. Wrapping them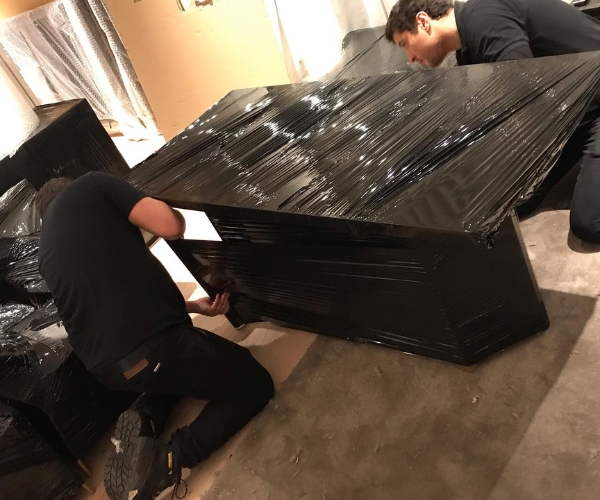 Once you have taken your furniture apart, you now have to cover them. You can use old clothes or blankets to do so, but the best way to cover furniture is to use furniture covers.
These will prevent dirt from entering, and also moisture from being trapped inside. As there is no moisture trapped inside the furniture cover, the chances of mold growing on them go down drastically.
4. Storing the furniture
Once you are done packing your furniture, it's time to store them in your favored storage facility. Avoid placing the furniture directly onto the floor, as it can be damaged by various factors, such as moisture or flood.
The best way to store furniture, especially wooden ones, is to place them on pallets.
Also, when you are storing your furniture, make sure to do it in an organized way. Place the largest pieces of furniture at the bottom, and put the smaller pieces on top of them.
Also, make sure to keep a space or two between the rows of furniture so that you can walk around.
Final Words
If you have to postpone your move for some reason, storing furniture until you can move can be a great challenge. But if you know the best way to store furniture between moves, things will get a lot easier for you.
Just make sure you follow the correct steps for storing items and find the storage facility that suits you the most.
FAQ's
1. Do movers prefer boxes or bags?
Using boxes for moving is a popular idea, and this also applies when moving furniture. After you disassemble the furniture, put the pieces in a tight-fit box, which doesn't allow the furniture room to shift.
As a result, the pieces will not bump into one another or something else and hence won't get damaged.
2. Is it OK to wrap the furniture in plastic for storage?
When you are wrapping wooden or fabric pieces of furniture, you must avoid plastic. Because plastic produces a lot of moisture and traps the moisture from these pieces inside, which causes stains and damage to the pieces inside.
3. Do I need to wrap mattresses for movers?
It is better to wrap your mattresses for movers before they load them onto the truck. You can use a breathable mattress bag for packing mattresses or you can use clothes or blankets. Doing so will protect your mattresses from getting dirty or damaged.